Senior Match review - SeniorMatch.com
Chances of Getting a date:
Ease of Use / Navigation:
Senior Match belongs to the top tier of online dating sites in the senior dating field. The website sticks to a simplistic design approach, which makes it easier for both amateurs as well as experienced users to get the most out of it. User profiles include plenty of details about their personality as well as dating preferences. This matchmaking agency has professional customer service for older people, user-friendly features, and a real 50+ singles database. After 14 years of development, It has been the most effective dating site for senior singles over 50. Please check the review detail below.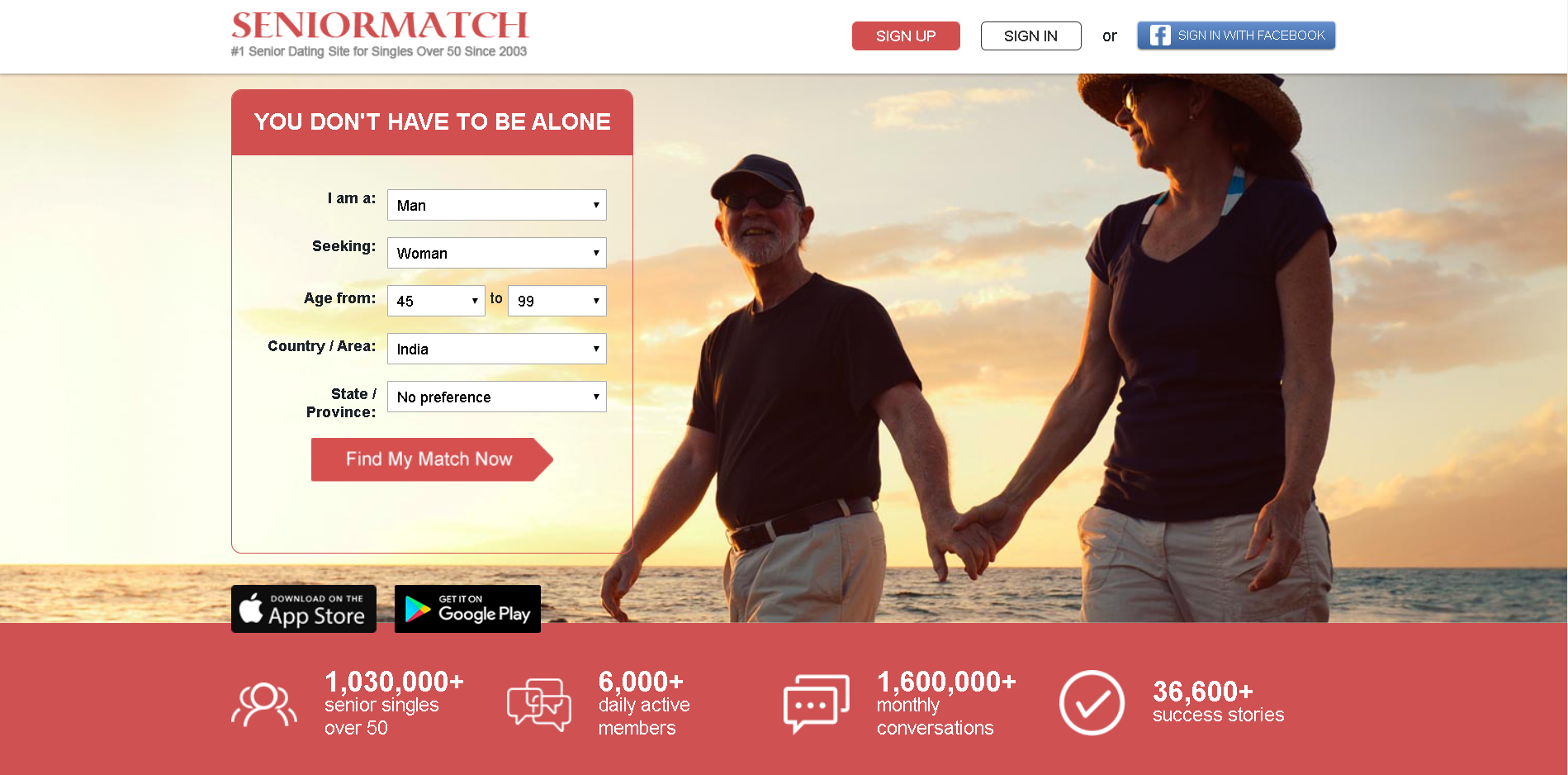 1. Message and Chat: All members can reply to the message sent from others. Only gold members have the privilege to initiate the chat.
2. Basic and Advanced search tools: Start the quick search by using the basic search tools that help you to find the potential matches. If you want to use the accurate search algorithm to find the partners you want, just switch to the advanced search tools.
3. Initiate sending emails: This platform offers web mail for users' communication. Gold members enjoy the right to initiate emails to potential matches.
4. Photos: Add up to 26 photos. Upload and edit your photos on PC and mobile at any time.
5. Full mobile access/ ios APP: Since more and more people spend much time on a mobile device, they developed the mobile site and apps for mobile devices. Use your mobile device to visit seniormatch.com, you will be automatically directed to the mobile site. If you like to use the apps on your phone, please go to the app store and google play store to download the newest version. Or you may want to check the review on senior match dating apps first.
6. Send birthday/greeting cards: Sending someone a birthday card to wish him/her happy birthday is one of the best ways to break the ices.
7. Verified members list: Senior Match provides a great feature that encourages all users to get profiles verified. Verified members may get 20x's more views and emails, credibility, and serious contacts.
8. View compatible matches / Reverse matches: The advanced search algorithm will ensure the search result is more accurate. It's more effective to find your partner by using this matching system.
9. How responsible members are: This function allows you to check the response rate of members.
11. Members' first date ideas: Check his/her first date ideas and respond to the plan if you are interested. It increases the chances of success. Add your first date ideas and draw attention from potential matches.
12. Fashion show: Upload fashion photos and show others how positive you are. Through this feature, you will find that many senior singles are classy, fashionable with their own fashion style.
13. Successful dating advice and safety tips: The advice and safety tips are very useful for your online and offline dating activities. Check the safety tips carefully to avoid online scam artists.
14. Receive priority customer care: Customer service will help you 24 hours a day, 7 days a week (24 x 7) by phone. The email support will respond to all feedbacks within one working day.
15. Check the latest activity: Check the recent activities from the members near you. Know the latest changes of the members you interested in.
16. Over 50 Magazine: This section offers guidance for all kinds of lifestyles. The topics include financial issues, traveling tips, social activities, etc.
To provide better service and keep the site working well, senior match lists three subscription packages. Please see the detail below,
1. Standard Membership: Free
2. Gold Membership:
1 Month: $29.95. (about $1.00 per day). Save 25% on the normal price of $39.95.
3 Months: $59.95 (about $19.95 per month). Save 50% on the normal price of $119.95.
6 Months: $95.95 (about $15.95 per month). Save 60% on the normal price of $239.95.
Yes, you will find that so many senior dating sites for 50-plus-age people after you searched online. And you don't know which one is the right platform for your needs. Now you don't have to worry about this problem. We highly recommend this site to you. Senior Match is the most effective older dating site for meeting older men and attractive women in your age group! They have 8,000 + daily active members and 100 + Daily Blog / Forum Posts.
All new members and changed profiles are manually screened to ensure the users' good experience and dating safety. Provide professional Customer Service with 24*7 phone calls and email support! Fast and easy way to date attractive men and women near you. If you're looking for a partner who shares your wisdom, your experience, and your interest in life, you've come to the right place.
Other Seniors Dating Sites Review