AgeMatch review - AgeMatch.com
Chances of Getting a date:
Ease of Use / Navigation:
This platform offers a great service to mature singles seeking friendship, love, romance, and marriage. But AgeMatch does not like other senior dating sites that only accept older people. It does not only cater to the people who are looking for someone of their own age but also encourage people to meet someone who is significantly older or younger than they are. Age difference in relationships is no longer important as long as two people find something in common. So if you are interested in experiencing a new dating style, you should join and meet someone special.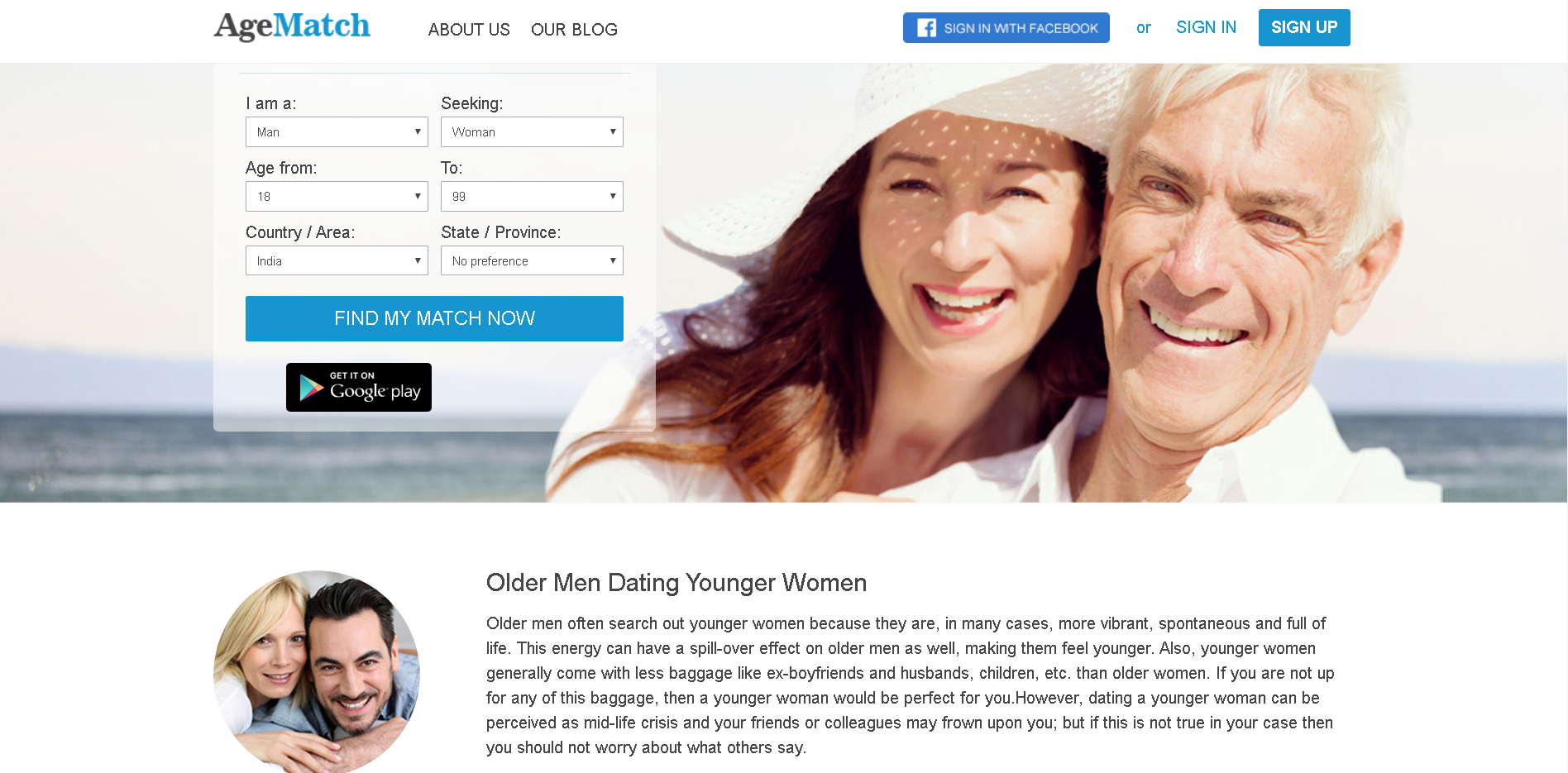 1. Age Gap Dating Ideas: Check the suggestions and tips for how to date someone who is significantly older or younger than you are. The ideas come from dating experts and members.
2. Search tools: Standard members can use quick search for free. The username search, advanced search, or search by location are only available for gold members.
3. Email System: AgeMatch has its own web mail system. The web-mail allows you to check the message in your personal email address which you registered with.
4. Photos: Add up to 26 photos. All photos are reviewed for approval. So most of the members are real with high-quality photos.
5. Mobile website version: AgeMatch does not have android and IOS dating apps, but they developed m.agematch.com for mobile users. When you visiting the main site by mobile device, you will be led to the mobile version automatically.
6. Send birthday/greeting cards: Sending someone a birthday card to wish him/her happy birthday is one of the best ways to break the ices.
7. Verified photo & age: To ensure the profiles' quality, this verification feature is designed for these serious members to get their accounts verified.
8. AgeMatch counselor: Anyone on this website can ask questions to dating counselor. If you have questions on relationships or meet problems on dating, just ask the counselor online or via email.
9. Customer service: AgeMatch offers professional customer service for all standard and gold members. Contact support staff through email, phone call or live chat to solve your problems.
10. Success Stories: This page displays a lot of success stories from members. You can check the stories by sorting them with status dating, engaged, or married.
11. Members' first date ideas: Members like to share their good ideas for the first date. And many users took others' advice and had success in dating.
12. Lets Meet: Browse and click the photos you like, the system will send the member a notification that you like her/his profile. If both members clicked each other's photos, you are matched successfully. Contact her/him now!
13. Recent activity: On every users' account page, the system will show the recent activities from other members.
14. Privacy setting: Check the recent activities from the members near you. Know the latest changes of the members you interested in.
15. Over 50 Magazine: Control the visibility of your profile, photo, and activities. Block the members you don't like and add the members you like as your favorites.
To maintain the site's quality and provide better customer service. AgeMatch offers the following subscription plans, Check the detail below.
Gold member Subscription packages:
One Month: $29.95. (about $1.00 per day). – Save 25% on the normal price of $39.95.
Three Months: $59.95 (about $19.95 per month). – Save 50% on normal price of $119.95.
Six Months: $95.95 (about $15.95 per month). – Save 60% on normal price of $239.95.
AgeMatch.com is a specialist age gap dating service that aims to bring together people interested in May to December dating. The age gap in a relationship is no longer considered as a parameter while searching for a companion. It has been observed that people emphasize on important aspects such as financial security, trust, and the understanding between the partners rather than on the age difference existing between the male and female. Don't let the age gap become a barrier in a long lasting relationship.
If you are new to the idea of age gap dating, you can check out plenty of informative articles on-site contributed by dating experts that will certainly help you take the right approach to online age gap dating. If you are looking for older men or younger women, AgeMatch will undoubtedly set you free from the hassles often associated with general dating. This means that you would no longer have to sort through millions of profiles to find your ideal match. Join AgeMatch today for free and connect
Other Seniors Dating Sites Review