Senior Match Canada Review (SeniorMatch.Ca)
Chances of Getting a date:
Ease of Use / Navigation:
SeniorMatch.Ca is built by seniormatch.com. It's one Canadian based site which only caters to mature singles over 50. If you want to find companionship, dating, and marriage in Canada. Just check the site out. This is the only senior dating site just for people in a certain place. Like a Senior Match, it has user-friendly features and real members database. The problem for this site is, The number of users is less than other big dating sites'. If you are a Canadian and looking for senior singles in Canada, this site may meet your needs.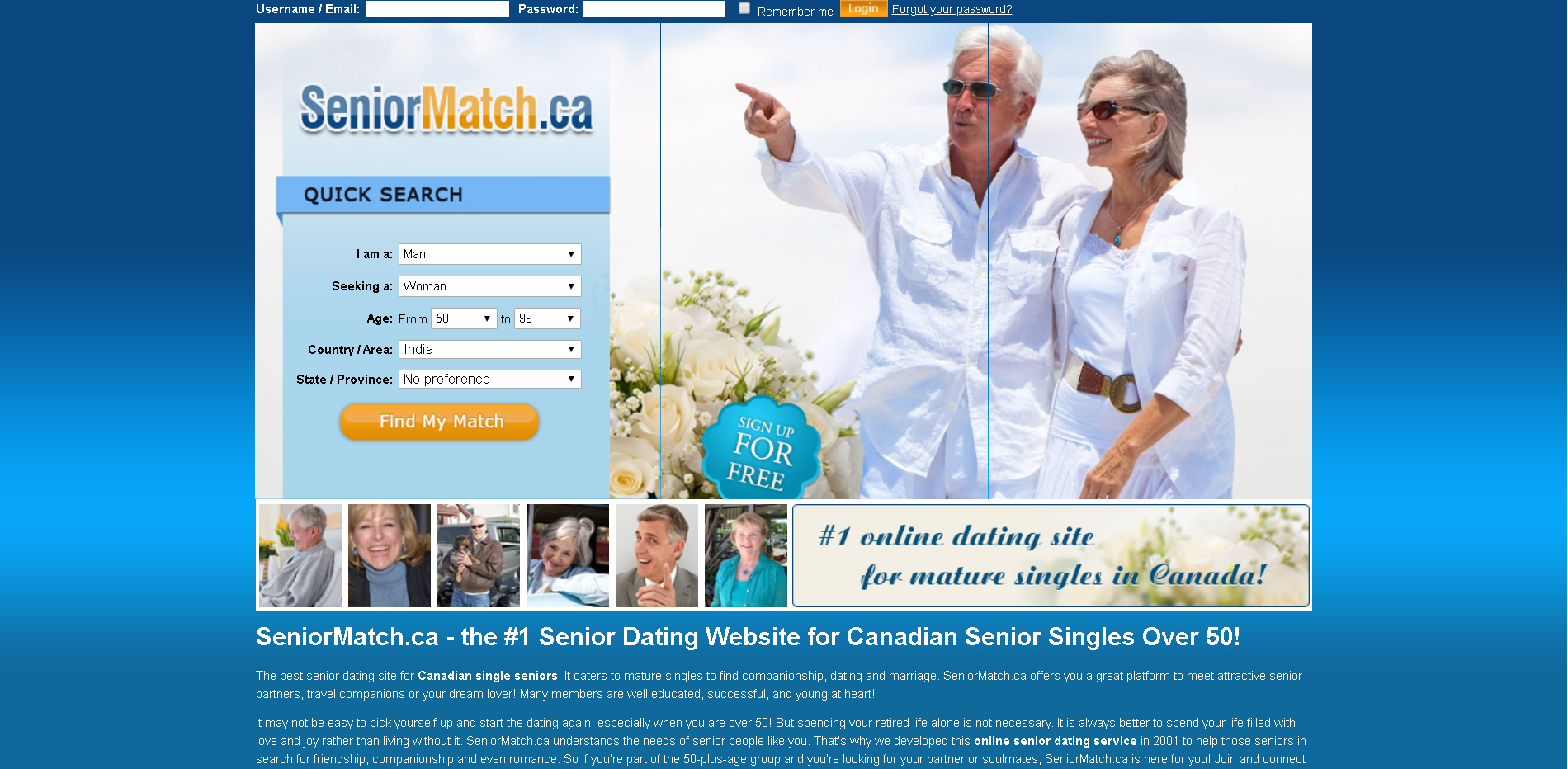 1. Webmail system: Senior Match has the own web-mail system to help users communicating online. All members also can read the emails from other members in their email addresses. It's convenient to all members.
2. Search: Wanna find someone like-minded? Just use the advanced search or keywords search tool to find the one you like.
3. Photos: You can upload 26 photos to your profile.
4. Full mobile access/ ios APP: Senior Match has two versions for mobile devices. If you are using an android mobile device, please go to m.seniormatch.com to use the service. If you are using iPhone or iPad devices, you may go to the app store and search for a senior match.
5. Send birthday/greeting cards: Sending cards to another member is a great way to break the ice, especially on holiday or someone's birthday.
6. Verification: Verify your photos, age, income, or education level to make your profile more reliable.
7. Senior Dating tips: Check the tips on how to create profiles, break the ice, and meet offline. The safety tips are very useful to new users without any dating experiences. Read the tips carefully before you decide to go out with someone.
8. Customer Service: The CS staff here will help you 24 hours a day, 7 days a week (24 x 7) by phone. The email support will respond to all feedback within one working day.
SeniorMatch.Ca has following membership plans for its users.
Gold Membership:
One Month: $29.95. (about $1.00 per day). Save 25% on the normal price of $39.95.
Three Months: $59.95 (about $19.95 per month). Save 50% on the normal price of $119.95.
Six Months: $95.95 (about $15.95 per month). Save 60% on normal price of $239.95.
You can upgrade to the gold member by using the following payment methods:
Credit Card – Visa, MasterCard or American Express
Visa or MasterCard Check Card
PayPal.com
Personal Check or Money Order
Other Seniors Dating Sites Review