Aarp dating Site review (Dating.Aarp.Org)
Hope you are heard About AARP dating site before and looking for some genuine reviews. Is that so? then you are at right place, Lets start AARP dating site review.
AARP Dating system will recommend you some similar users when you checking member's profile. You can easily find similar singles near you. Keep reading further for complete AARP Dating site Reviews.
Chances of Getting a date:
Ease of Use / Navigation:
Dating.aarp cooperates with the well-known dating site How About We on the senior dating scene. AARP does not provide the service to its users, they just focus on their original social media service to senior people.
After checking howaboutwe.com, we found that the service for older people is just one small branch of HowAboutWe. This site is built around proposed dates. 
You can propose a date or scan dates that potential partners have proposed, and then decide if the date or the people you interested in. 
AARP Dating Site encourages its senior users to initiate face-to-face meetings on HowAboutWe, so it's not a good choice for those people who want to learn more about the potential dating partner before going on a date.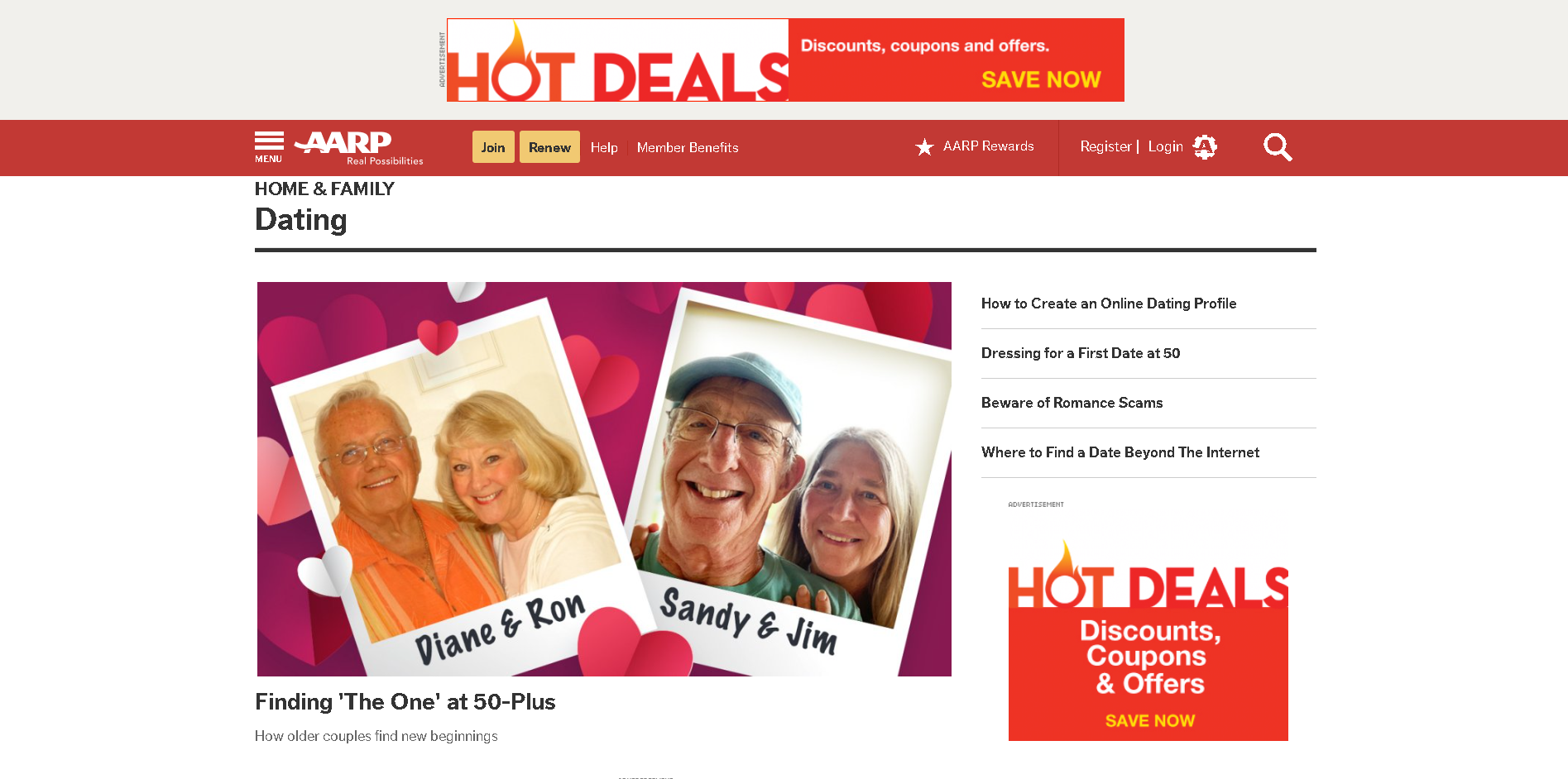 You can search for dates by keyword or search under 5 different categories. ( Eat, Drink, Listen/Watch, Play, Explore). With the advanced search tools, you can search the members by ages, distance, height, education, faith, ethnicity, children's preference, exercise level, drinking, and smoking, etc. Additionally, you can filter your results to display on top, Recently active, most popular, and new dates.
 AAarp Dating Allows you to check the photos and the dates from other members, click "Like" or "Not interested" icons to generate interest. It's similar to the features on the senior match and other dating sites.
What are the Features of AARP Dating Website? Lets see the Features of AARP Dating Service,
By using this feature, you can decide if the members you browsed can see your visit history on their profiles.
The system will recommend you some similar users when you checking member's profile. You can easily find similar singles near you.
It is a fun game in which you can quickly express interest in going on suggested dates. Try Speed Date by clicking the "Play" tab on the top of your home screen. You can let other users know you're intrigued, and if you're not interested, they'll never know.
You are required to post at least one date idea if you want to continue the game. Your date starts with "How about we…", you can post your date ideas, location, and the category. you can choose one of the many caned options.
What are the benefits of AARp Dating System? Lets see the benefits of AARP Dating Service,
If you want to go out tonight, join this activity and the system will match the members nearby who also want to go out tonight, then you choose the best one you want to date and make a plan to go out. Just like they say "With TONIGHT, you swipe, we match, text and then you get offline on a real date".
You can send a private date to the member you want to ask out by clicking the button on profiles. In this case, ONLY that user sees your date and no one else does. These get delivered just like messages.
Dating Mobile App Benefit
AARP builds apps for ios and android users. It's convenient for singles to find a date on mobile devices.
Dating Mobile App Benefit
AARP Dating only provides basic and simple privacy settings. You can let people who are signed into HowAboutWe view your profile, or anonymous browse other profiles.
Membership Plan cost on AARP Dating
Subscription packages:
12 Month: Billed on one payment at $107.88
6 Month: Billed on one payment at $71.94
3 Month: Billed on one payment at $59.97
1 Month: Billed on one payment at $34.9
Benefits for Premium AARP Dating Senior Users
Why you should upgrade, member benefits include the ability to:
1. Send unlimited messages.
2. Receive and read unlimited messages.
3. Respond to your "intrigues".
4. Read new messages right in your email.
5. See when your messages have been opened.
6. Get featured as a subscriber on the search page.
7. Receive top priority customer service.
8. Get our 100% Offline Guarantee.
It is one of the most popular dating sites that encourages you to spend less time online and more time meeting people offline by focusing on the date itself.
The design of the whole site is simple, modern, and user-friendly, even though it requires a little bit to look around and figure out how it all works.
To get more chances on offline dates or respond to your "Intrigues", you have to upgrade your membership. 
AARP Dating offers several subscription plans, if you are interested in this kind of dating game, you must check the site now!
Frequently asked Questions
1. Does AARP have a dating site?
Yes AARP having dating site That specially made for Seniors over 50.
2. Does AARP Dating have Premium Membership?
Yes AARP having dating site have premium Membership.
3. What is the minimum plan Price on AARP dating Premium Membership?
34$ per Month 
4. What is a connection between AARP Dating and How About We?
AARP and How about We are partners of this senior dating community.
5. What are some similar dating sites like AARP Dating?
Ourtime, Eharmony, ok cupid, senior Match are some of the top dating sites for seniors like AARP Dating.
Other Seniors Dating Sites Review like aarp dating site review